WTV to AVI Converter

Download

Last Updated:2010-05-20
---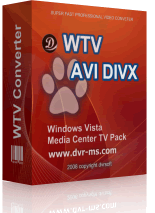 WTV to AVI Converter is a easy-to-use video converter for converting WTV format to AVI format , play recorded TV show on other computer without Vista TV Pack, user can batch convert wtv files with one-click. It outputs high quality video and support 1080p/720p HD TV record. compresses 1080p/720p wtv files to AVI files, and saves a lot of space to store your TV shows
on hard-disk.
Everybody can use this software with ease, as well as enjoying the fast speed and best video quality!
Key feature
One-Click converter.
Batch convert WTV files.
Support command line.
Support custom bitrate output.
Output high quality video.
Compress WTV files to AVI files, save HD space.
Support 1080p and 720p
WTV and Vista Media Center TV Pack 2008
The Windows Media Center TV Pack 2008 is an upgrade to Media Center functionality released in Vista Home Premium and Ultimate. it replace .DVR-MS file with .WTV file to recorded TV show in Vista Media Center.
AVI – Audio Video Interleave
Audio Video Interleave, known by its acronym AVI, is a multimedia container format introduced by Microsoft in November 1992 as part of its Video for Windows technology. AVI files can contain both audio and video data in a file container that allows synchronous audio-with-video playback. Like the DVD video format, AVI files support multiple streaming audio and video, although these features are seldom used. Most AVI files also use the file format extensions developed by the Matrox OpenDML group in February 1996. These files are supported by Microsoft, and are unofficially called "AVI 2.0″.
There is slight overhead when used with popular MPEG-4 codecs (Xvid and DivX, for example), increasing file size more than necessary. The AVI container has no native support for modern MPEG-4 features like B-Frames. Hacks are sometimes used to enable modern MPEG-4 features and subtitles, however, this is the source of playback incompatibilities.
AVI files do not contain pixel aspect ratio information. Microsoft confirms that "many players, including Windows Media Player, render all AVI files with square pixels. Therefore, the frame appears stretched or squeezed horizontally when the file is played back."[1] There are other video container formats that allow irregular shaped pixels.
More modern container formats (such as QuickTime, Matroska, Ogg and MP4) offer more flexibility, however, projects based on the FFmpeg project, including ffdshow, MPlayer, xine, and VLC media player, have solved most problems with viewing AVI format video files.
In June 2005, DivX, Inc. released its own container format called DivX Media Format (.divx extension) to succeed the AVI + DivX combo. However, this format is basically an enhanced AVI format (based on the same RIFF structure, for backward compatibility with existing players and devices) and so far, has gained no perceivable consumer traction[citation needed], even where the DivX codec was once popular (the Xvid codec has instead become the codec of choice among most of the file-sharing groups ).